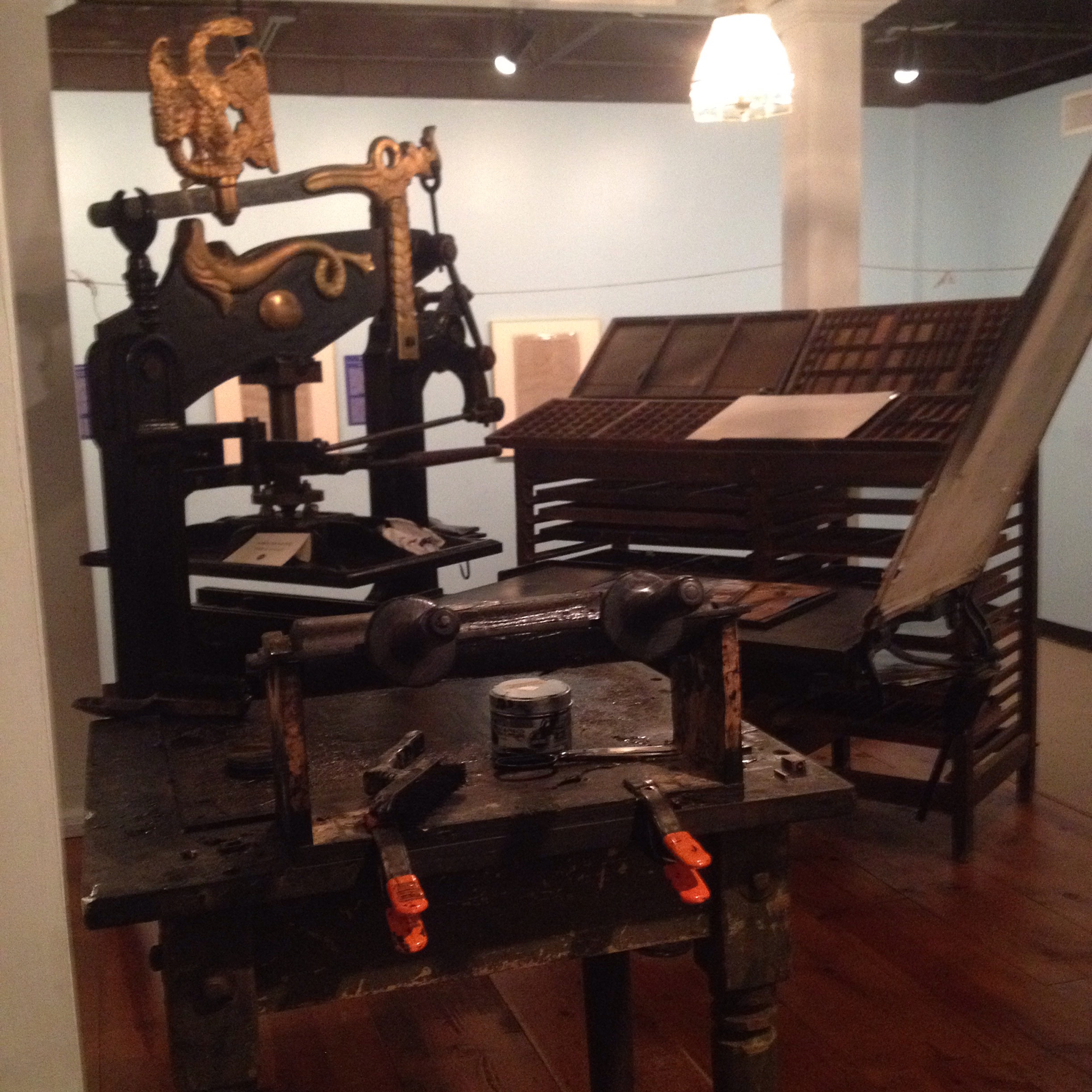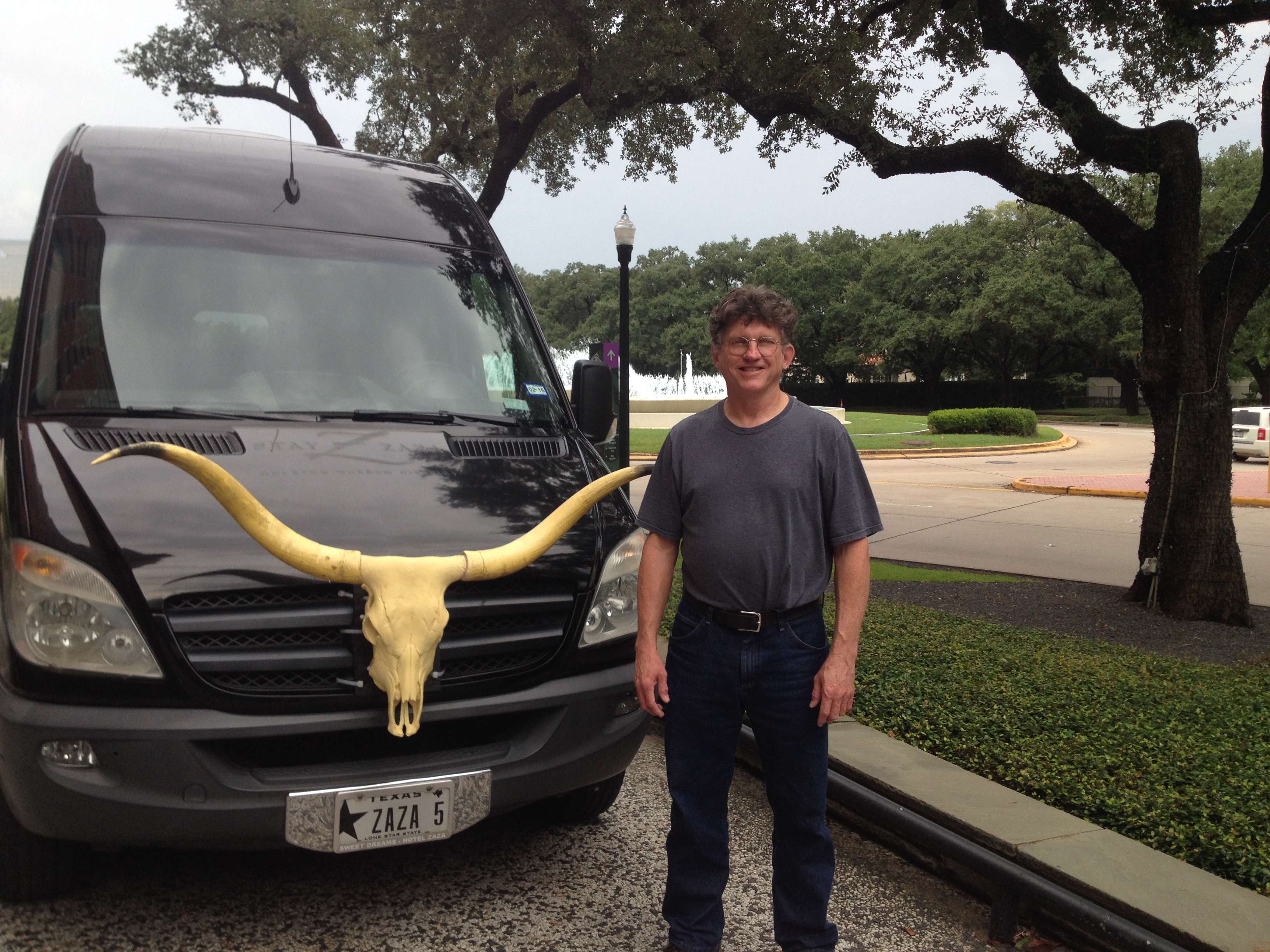 After my time in Austin, I visited my sister in Houston and headed up Hwy 59 on my way to the University of Iowa's Center for the Book. I wanted to speak with Tim Barrett about renaissance papers and what, if any, differences there might be in the paper used for printing on wood as opposed to metal.
I traveled up a state road that feeds the eastern part of Texas north to south. About 90 miles outside of Houston, my motorcycle quit. I'd fueled up 45 miles before, so I didn't think it could be fuel. It had been running fine, so it couldn't have become starved for air and that left fire - or spark. I checked battery connections, fuel pump operation, fuel filter. All were in order. I had spoken to a friend on the phone a few times and was somewhat warm as it was noon and in the 90s.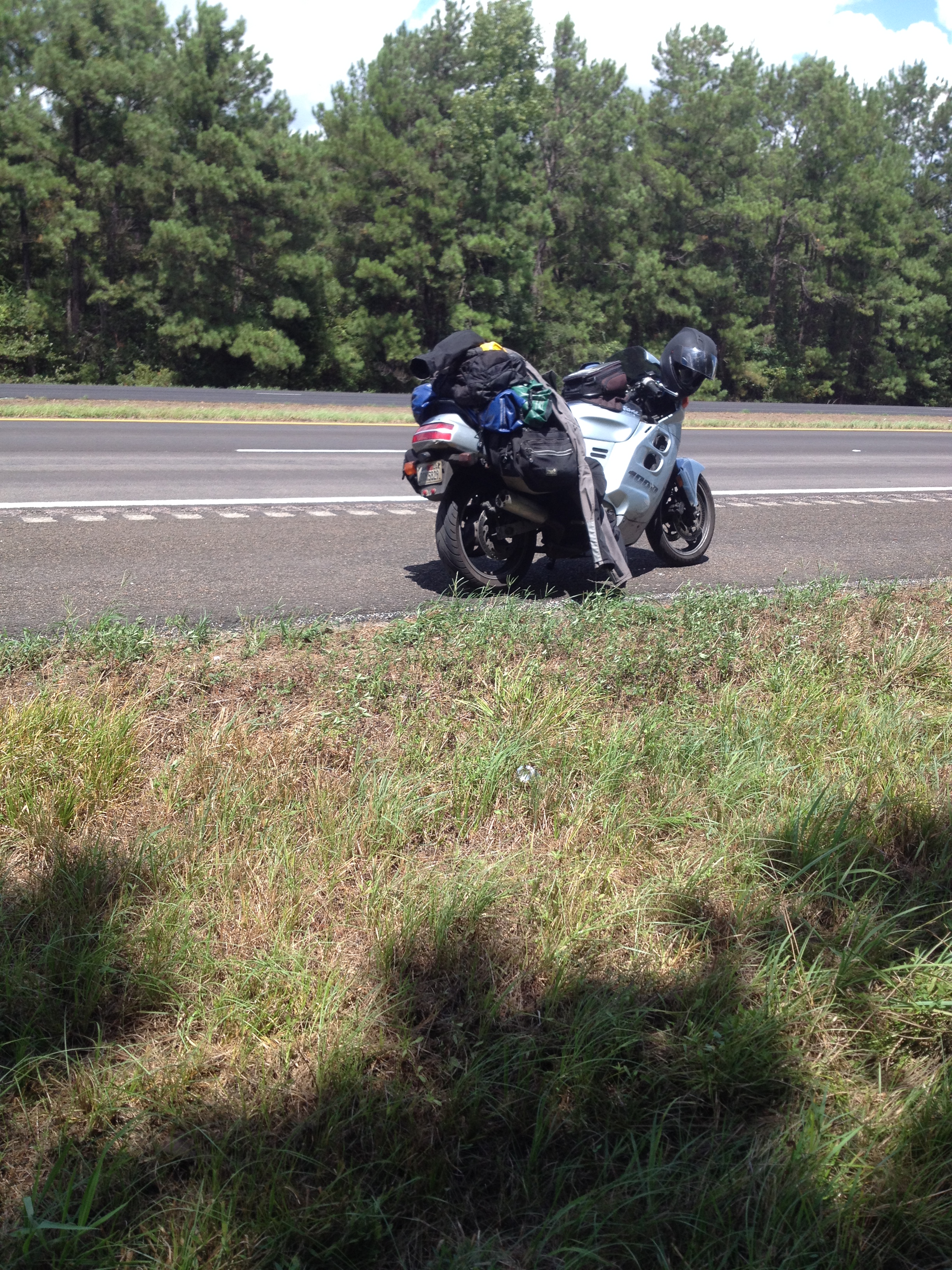 As I started to take the tank off, a pickup truck pulled up behind me and  the guy asked what the problem was. I explained briefly and he offered to help. He said that he had a dual sport (off-road and on-road) and I asked what kind. His early 2000s BMW GS 1150 had served him well and he liked it. Then he asked if I rode much and I mentioned my previous cross country trips on an old 80s BMW RS100. He seemed to relax and commented that I wasn't a new rider. We chatted as I pulled the gas tank off and continued to troubleshoot. Discovering nothing out of sorts such as a disconnected coil wire or spark plug wired unconnected, I was stumped.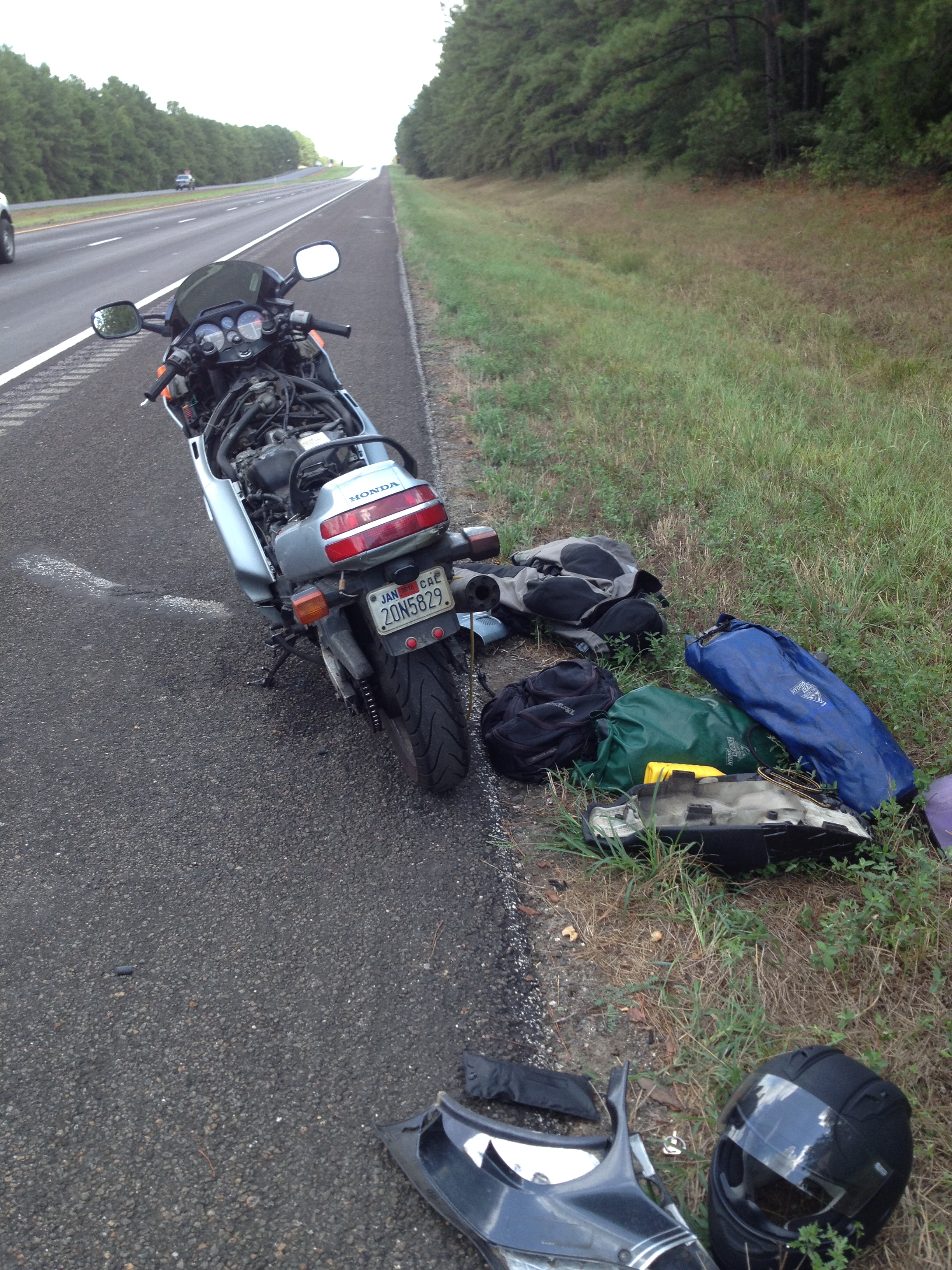 My new friend Dave offered to drive me and my tank, body panels and gear up the road 90 miles to my friend, Lisa Steed's house. I had intended to visit her on my way north to Iowa. Dave suggested leaving the bike there as he couldn't haul it in his covered truck. I could rent a trailer and come back for the bike with Lisa and he would travel only  a few miles out of his way.
As we talked, he developed a further plan to find a trailer nearby, renting it and then Lisa and I could return it. As it happened, Baskin's Hadware in Corrigan came into view and we stopped. They sold larger items and I thought I saw a trailer in the back as we passed. We went into the old country hardware store and were greeted warmly by four men ranging in age. Dave asked the owner if they rented trailers. The man said "No, we don't."
"But you can borrow one.
"We close at 6:30."
Dave took this in and the owner said: "We're country, that's how we do it here." To which Dave replied: "I'm country too - and that's what we do up in Toledo Bend."
We loaded the bike and stowed my gear and headed north to Nacogdoches. After unloading, Dave said he'd take the trailer back himself, wouldn't take anything, just said he was making a deposit in his karma bank.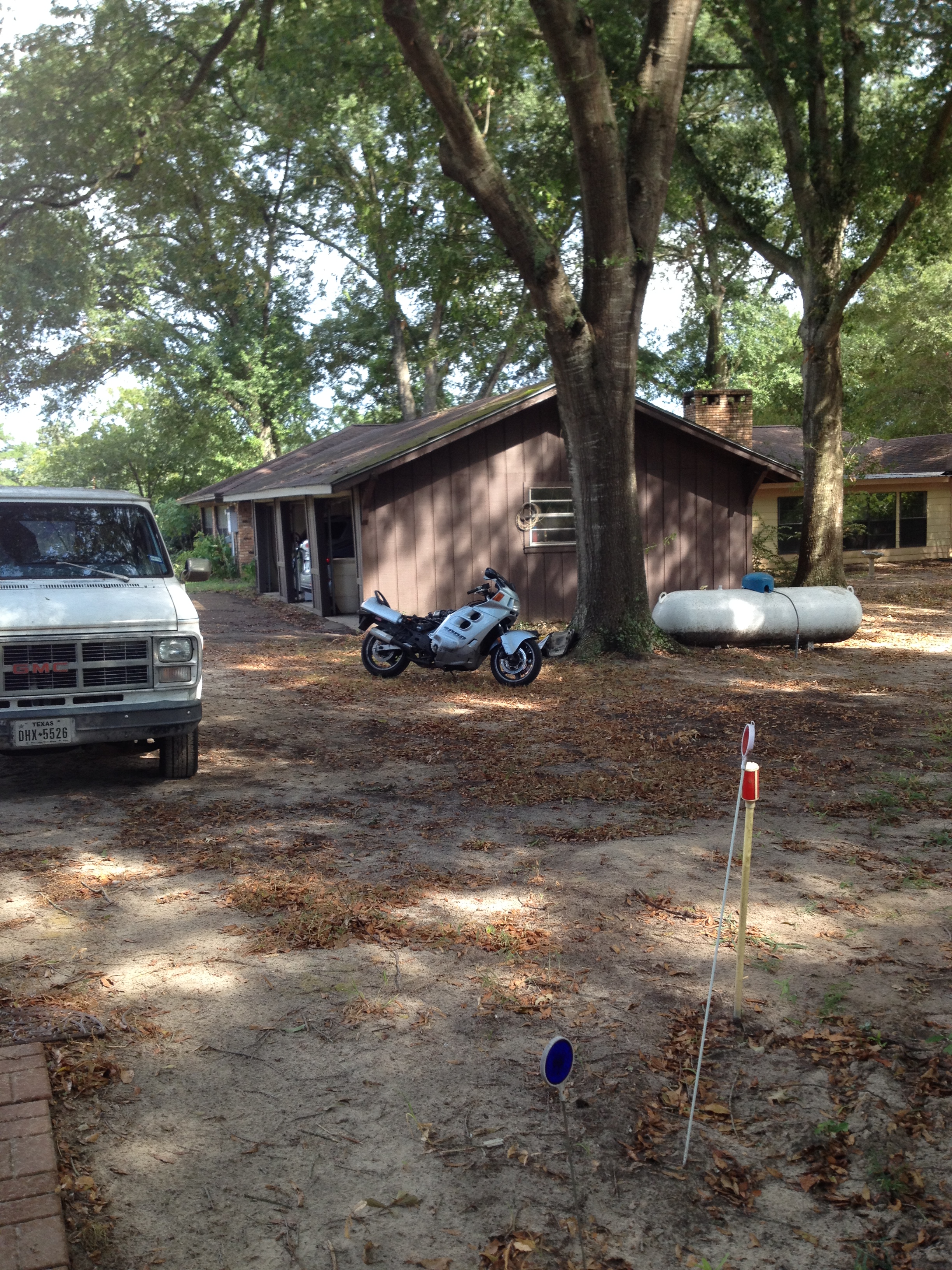 My friends, Lisa and Rodney fed me, put me up for the night and then helped me work on the bike on Sunday. At some point I suggested Lisa give the bike a wave of her healing hands as a joke, and the bike started after that.
After a twenty mile ride up the Loonieville Road, I packed up and headed out. I made it to Texarkana that night, 150 miles away and stopped at sundown.
Having lost a day, I was back on the road with a mysterious electrical problem but feeling quite fortunate to have made a new friend.
Thanks, Dave - travel safe on that GS.