A Long Distance Ride To Writing Manuals
Sometimes a motorcycle ride is just a ride. And at other times, it's a dramatic escape from the shackles of entropy. This particular ride started with an escape and developed into a dream.Once I closed my business after 12 years in operation, my time became my own again. I could take a trip and get on with things that I'd set aside for years. Like long distance motorcycle trips and studying writing manuals. My niece was getting married in Llano, TX and I planned to ride there and visit the Harry Ransom Center (HRC) at the University of Texas in Austin after the wedding.The motorcycle for this little excursion is a 1987 Honda Hurricane 1000F, commonly known as a sport touring bike. My knees may disagree with its suitability for long hours in the saddle, but it was a good mount as regards power.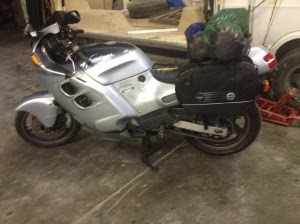 I spent somewhat longer in replacing the alternator damper than I planned to. It is an arcanely designed part that spins the starter and also spins the alternator to keep the battery charged. It was buried deep within the engine cases and is known to be a difficult installation. Some things bring their own challenges and this one offered me a growth opportunity.The wedding was on Saturday, April 11, and I'd hoped to get on the road early in the week. The mechanical challenge ate up my time but I persevered until Wednesday, April 8, 2015 when at 5:00 p.m. the bike started and ran. Rob, one of my riding buddies,  talked me out of trying to shove some items in my new saddle bags and get going that night.I messed around until 1:00 a.m. and got up at 4:30 to leave. I was on the road a little after 5:00 a.m. heading east out of Oakland and into the morning dawn. Still dark as I rode along 580 towards I5. Traffic was backed up in the other direction but my side was pretty empty and I began to feel the excitement of the start of a trip. While I5 isn't the most inspiring road, it was fairly empty and the cloud cover kept the temperature ideal. East of Bakersfield, Dave, my imaginary internet buddy, guided me to Barstow and south on 247 towards I10. This little road has twists, turns, elevation and climate change. Lucerne Valley is pleasant and the Morongo Valley is a little gem.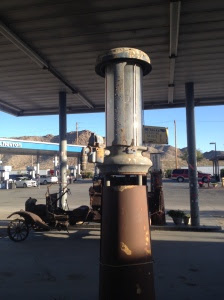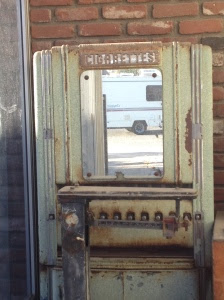 Sixteen hours after starting, I stopped in Gila Bend, AZ to stealth camp in an RV park behind a truck stop. Setting up this tent in the dark with my stiff back, knees and fingers was a bit of a comedy as I couldn't really see what I was doing and had only used this tent twice before. Adventure!Friday, April 10th before the workday traffic began I was back on the road and on I10 headed towards Texas. Arizona and New Mexico flew by as I meditated on my life and this trip. I was looking forward to making it by Saturday afternoon for my niece's wedding. I had 960 miles to go and I might have made it but bailed out after the heat, hail and rain I rode through in West Texas. I got a hotel in Ozona, roughly 850 miles from the day's starting point.Saturday morning's ride into Llano through the Hill Country was very pleasant with clouds and dramatic light playing across the bluebonnets and Indian Paintbrush. It was one of those atmospheric tricks that happened for much of this 3 day trip that suggested that all was well in the world. The wind and sun caressed my skin in a way that felt like i was in a movie.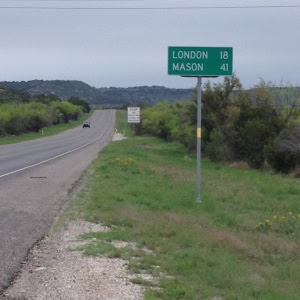 But I knew better, weather will turn on ya in a mile and make you wish you'd stayed home. Family, old friends, new acquaintances, this is what weddings are for – and this one didn't disappoint. I felt renewed and connected as I hadn't in quite a while. Yes, it was worth the somewhat uncomfortable ride. And even the discomfort enriched the experience.
At The Hideaway in Llano, TX
Bluebonnets, bulletholes and dirtbikes - a typical Texas sceneOn Tuesday I headed to the HRC on the UT campus. This was the scene of phase two of my calligraphic and history of the book education. In 1982, I worked in the conservation lab and then moved to the rare book reading room as a page. I wanted to look at a few of the writing manuals that I studied back then. I forgot that the HRC has one of the stellar collections of writing manuals in the United States. In conversation with the rare books librarian, Rich Oram, I was reminded of the breadth and scope of this collection that was sold to UT in 1962 by the Italian book dealer Carla Marzoli.
Horfei Copybook @ Harry Ransom Center
Horfei Copybook @ Harry Ransom Center. This book was trimmed and the pages were mounted in a larger textblock - much like a scrapbook
Call slip recordUnfortunately, the cataloger of that time chose not to note in a field which books came from the Marzoli purchase. It is not too difficult to read the printed catalog that was used to sell the collection. However, in this day of digital research, having a data field to cross reference all the information available would have been useful. The presumption that finding things online will be faster and easier than the old analog method of checking a card catalog isn't always the case. We're a long way from the utopian world of comprehensive digital access to rare books and special collections material.
There's some difficulty in discovering where writing manuals are collected when using WorldCat. It will give you a fair description of known copies in libraries, if they were cataloged individually. Cataloging standards have changed over time and the entries in WorldCat are limited to libraries. When searching for Il Perfetto by Giovanni Fracesco Cresci printed in 1570, the Metropolitan Museum's copy housed in their Drawings and Prints collection doesn't appear in WorldCat since this copy was cataloged as a work of art on paper, not as a library item. I was able to look at the two copies of Il Perfetto while at the HRC. But only the 1579 edition is cataloged in their records. The second copy is bound in a 19th C. compendium of writing manuals that were cut apart and pasted into one of seven volumes of writing manuals compiled by Henry Benjamin Hanbury Beaufoy, a wealthy vinegar magnate. That catalog entry states that the collection focuses on English, Dutch and German writing books. Cresci's books were published in Milan.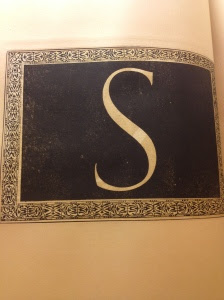 My trip back to California was fairly uneventful and quite pleasant. Weather was mostly perfect and I traveled off I10 up through New Mexico from Deming to Holbrook, AZ on NM180. They've had rain and it was green and truly spring-like in the mountains.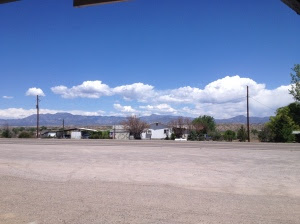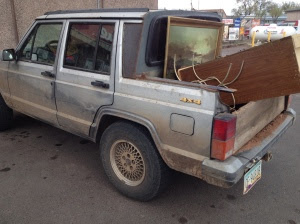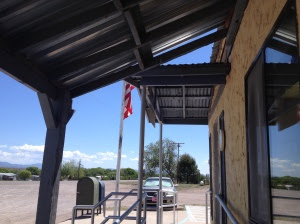 As I rode without a deadline, enjoying the scenery and wind and speed, my mind drifted to the writing manuals. One of the big attractions to riding a motorcycle long-distance is that it is a moving meditation. I can free-associate and let a part of my mind wander while still attending to the road and scenery. When I ride for more than five hours in a go, the continuos attention to the road settles me into a reflective mood that I don't get very often. The prolonged continuance of this state becomes a laboratory for my mind. I shift into this creative zone where ideas that don't come freely begin to emerge.  I can reflect on them, review them and revise them like sketches on a pad.This is what I was doing for the five days I took to travel 2150 miles back to Oakland. In the middle of the ride, I spent a day in Flagstaff doing nothing more than walking around and resting and writing. My body didn't need the rest as much as my mind needed to calm down from the excitement of my thoughts.The idea that captured my imagination was a clarification of something I've been playing with the past few months after closing my business. I've wanted to combine the two passions of my life. Riding, studying writing manuals, visiting libraries and book arts friends and telling stories.This was the genesis of the ride I'm about to take.